Amazoned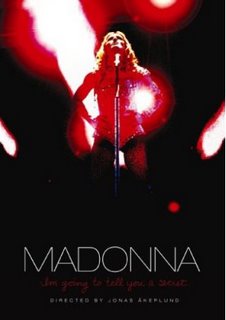 I received my order from Amazon.co.uk today, and am very happy with my purchases.
Got two Neil Gaiman books and the Madonna

"I'm going to tell you a secret"

documentary DVD & Live album combo.
Why the Madonna DVD? Well I've always been attracted to balsy & strong woman, plus I do enjoy her music. Also because this documentary has a special place in my heart, see last November while still living in London, I was very fortunate to attend Madonna's private party, which she held at the Koko club for the launch of her album

confessions on a Dancefloor'

, and as if that wasn't enough, she invited all the attendees to the UK premiere of this documentary




- to which I obviously went! It was a great screening with lots of celebrities like Gwenith Paltrow, Stella McCartney and many more.


Now about Neil Gaiman, well I've always been a fan of the Sandman comics (even before finding out the Tori Amos link), and was more interested in his work after I discovered the Tori link, which is that she too is a fan of his, and always sneaks little 'hello's' to Neil in her songs, or sometimes mentions some of his characters or what have you. And this started a great friendship between them, Tori kept adding her cryptic messages to Neil in her songs, and so did he in his books and comics. It's even said that Delirium (one of the Endless in the Sandman comics) is based on Tori with her flaming read hair.
The reason I bought Stardust is that I discovered that it's being made into a movie now, starring Michelle Pfieffer and Robert DeNiro, and in the Tori forums there was a buzz about whether Tori will have anything to do with the movie.
Why, you might ask? Well in her 1996 song

Horses

, Tori sings:

"and will you find me if Neil makes me a tree?"

. When the time came for Neil to write Stardust, Tori offered him her home in Cornwall to write it in, but in return he had to make her a tree in the book, and he did. I'm very intrigued by this tree he created, and also want to read the book before the movie's released next year. I love the way the writes and his sense of humor, and I know I'll fall in love with the story.
Now the buzz is that Tori might be voicing the tree in the movie (if not in someway appearing in it as well), not having read the book, I don't know if the tree has a human figure or face or whether it's just a normal tree.
It's also been mentioned that Tori was working a soundtrack, so it also might be for Stardust. Time will tell, but it's all exciting news!
So why also get

Anansi Boys

? the backcover image of the book had one sentence:

"God is dead. Meet the Kids."

Now who wouldn't want to read that??
I've read the first two chapters of Stardust now, and will hopefully finish the book this week, so I'll write my review of the book then...